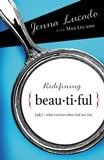 I'm already interested in girls and purity and growing up safely- so when I saw a book co-authored by Max Lucado (you know,
Hermie and Friends
) and his daughter, Jenna, my first question was easy: is it Luc
aa
do? or Luc
ah
do?! Tomaato or tomahto? (sorry)
Her book is called
Redefining Beautiful: What God Sees When God Sees You
and it's aimed at 12-17 year old girls. Now, my oldest, Claire, is only 8, but soon enough she'll be older, right? I need to be prepared now so that when she has questions/issues I can have a ready answer instead of saying, "Uh, honey, let me go look around for some info, I'll get back to you..." I also recently started working with older girls at church each Sunday, and since this book is from a Christian worldview (published by Thomas Nelson), it can give me good info to pass on to those girls NOW.
Anyway, being that I am a
few
years older than the focus group, it was a fast read. It was definitely aimed at younger girls because the author pals around with the reader in a friendly conversational way. It is written in first person, so it seems like Jenna is talking directly to the girls.
If your daughter is a voracious reader who soars effortlessly through
Wuthering Heights
and
the Federalist Papers
, she might think it was too young for her. It is very aware of the pop-culture environment most girls are saturated in- Jenna talks about Facebook and boys, the mall, deodorant and moms who enforce annoying wardrobe standards. It is written with a sort of assumption that all girls who read it attend public school and may have had less than stellar father figures, and little if any Christian influence on their outlook. For instance, Jenna tells the story of Abraham's son Ishmael, and says "Let's call him Ishy." But I have to say that her analogy with Facebook was spectacular (if you know FB): What is your (Facebook) relationship status
with God
? Are you Single? In a relationship? In an open relationship? or is it Complicated?
Since the cover features a mirror, and the title is
Redefining Beauty
, I assumed at first glance the book was about poor self-esteem because girls focus on what the world says about their flaws, and about the true beauty of a good character. The back of the books reads like: "Through candid discussions about real issues- from self-esteem and dating to broken families and abuse- Jenna reveals a foundational beauty secret: a father's love." But only at about page 130 does its emphasis on fathers -present or not, earthly or heavenly- really begin to get more frequent. Before that, dads are only mentioned in passing, and there are a few "notes from Max."
But then, it becomes evident that she wants all girls to realize that no matter what your earthly father is like, God is a perfect father who thinks each girl is just right, just the way He made her. Jenna fills pages with quizzes in which the girls don't just put A, B, C, or D... she has to delve into why she chose that answer. There is a lot of room for answers and lots of good leading, in-depth questions. Also, as the book continues, she begins to list crucial "life accessories" such as Joy, Love, etc. For instance, she lists "Peace" and then defines it as "believing God is in control" and then discusses how girls can be such drama queens and how peace will be remembered instead of merely interesting for a moment. In addition, she has sections called "Beauty Tips" that are practical ways to become more beautiful- but instead of giving make-up application pointers, she discusses ways to share a closet, or what to wear so that you don't have to worry about your wardrobe when on a date.
Here is a video of the author talking with some kids about her book:
I rec'd a copy of this book for free from Thomas Nelson. I am a part of a reviewing team called MamaBuzz- see my button to their site in the left sidebar. I hope you thought this review was helpful!