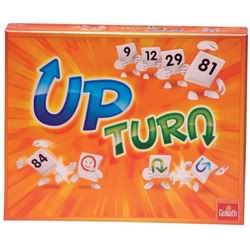 Well there certainly was a kerfluffle in our house when this box came to the door!
This game is for any age child who knows or is learning the double-digit numbers. I was a little overwhelmed by the variety of symbols on the game pieces, but this was remedied as soon as I read the instruction booklet (funny how that works, huh?). The pieces are easy to figure out after you read the definitions! In addition, the pieces themselves are very pleasant to handle- they warm in your hand and remind me of ivory dominoes. They are sort of a modern, curvy, tilted rectangle. The symbols are carved into the face of each piece and the grooves are dyed to make them easier to identify.
It is basically a "put the numbers in order" game. Depending on which way the play is going, you put down the next larger or next smaller number tile. Then, they throw in some variable like skipping turns, handing out extra tiles, or flipping the direction of play.
It's not an overly face-paced game, and easily converts to play in teams -- an older child paired with a younger one, working together to figure out the next best tile to lay down. As a homeschool mom, I see the intrinsic value of such solid and pleasant tiles. It would be easy to use the tiles as a stand-alone tool to practice ordering the numbers.
Benefits to UpTurn were quickly visible. Not only limited to practicing and improving their math skills, it was an opportunity for my older daughter to practice patience and helpfulness as my younger son figured out the next tile to use. Sometimes a tile instructed a child to give tiles to another player. It was evident that this action could easily lead to frustration between siblings, so it was an opportunity for them to practice good sportsmanship. At one point my son got frustrated at the game, but the next time his turn came around, he was able to put down 4 tiles and give away four tiles, and suddenly he was in the lead! So the course of the game can change really quickly.
My kids are used to educationally-minded toys and games, so they were open-minded with UpTurn. As a parent, I could see that it was fun enough for them to not groan when I took it out to play with... definitely better than doing a math drill or flashcards! However, for a family that is not usually playing educational games, or who uses a wide range of electronic and entertaining media, this game would probably not be a winner.
I did this review for Mama Buzz (see their button in my left sidebar). I received a free copy of this game for free from Timberdoodle. I hope you find it informative!