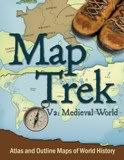 Hey! Do you use any of these history programs?
-TruthQuest History
-Story of the World
-Biblioplan for Families
-Tapestry of Grace
-Sonlight Curriculum
-Mystery of History
-My Father's World
-Learning Adventures
-Living Books Curriculum
-Ambleside Online
-Winter Promise
Then you may be interested in this geography book by Knowledge Quest called
Map Trek v2; Medieval World
. (Of course, they do have v1: Ancient Times, too. Check out their
website
for a full listing of books.) Right now Map Trek is available in a digital format, but in a few months it will be ready to hold in your hands. The benefits of digital are easy to see- you only need to print out a map that you need. You don't have to print out the entire year if you are starting in the middle. You can print out another one as a test! You can print multiples without going back to the copy center. And you don't have another book to keep track of!
This book begins with a letter to the parents, and some quotes about learning history from such personalities as Thucydides, Demothsenes, John Buchan, Baron Tweedsmuir and Solomon. Then it explains that each lesson is broken into sections based on the Classical method:
Level A is for Grammar stage students (gr. 1-4);
Level B is for Logic stage students (gr. 5-8); and
Level C is for Rhetoric stage students (gr. 9-12).
I think this book would be a good fit for Logic and Rhetoric age
The Well-Trained Mind: A Guide to Classical Education at Home
students. The maps that come with the activity book for each year of Story of the World are good for lesson-specific instruction for the Grammar age student. But Map Trek really adds on the tasks! It is an in-depth study of the historical blackline maps and the geographical bodies such as mountains and bodies of water.
It has a recipe for salt-dough that will dry hard and be paintable, so that your kids can see the varied landscape in person.
It has chronological lesson plans that make it easy to jump right in, even in the middle of the year. It goes from the Byzantine Empire up to the Spanish/Portuguese empires, and in between it includes Japan, South America, and Russia, African kingdoms, China and many more European conflicts. It definitely is a WORLD map trek, not just European!
I received a digital copy of
Map Trek v2; Medieval World
, a $14.95 value, for free through Knowledge Quest. I hope you found this review informative!
I'm so pleased you are reading Higher Education!

Click on the post title to leave a comment.
Teresa (Tracy) Dear